Charity is at the heart of Freemasonry and the Crest of Mount Edgcumbe members pride themselves in giving generously.
In 2016, a representative of the Master Masons Charity 'Air Ambulance Appeal', receives a cheque for £7,000 from the Worshipful Master of the Crest of Mount Edgecumbe Lodge 7431. (below)
In 2017, the lodge increased its donation to £10,000 and has, therefore, gained the Metropolitan Grand Master's award of Excellence.
Four of our members were invited to visit the Air Ambulance helipad which is on top of the Royal London Hospital where we saw for ourselves where the helicopter is based and learnt a great deal about the organisation behind its operation.  (picture above)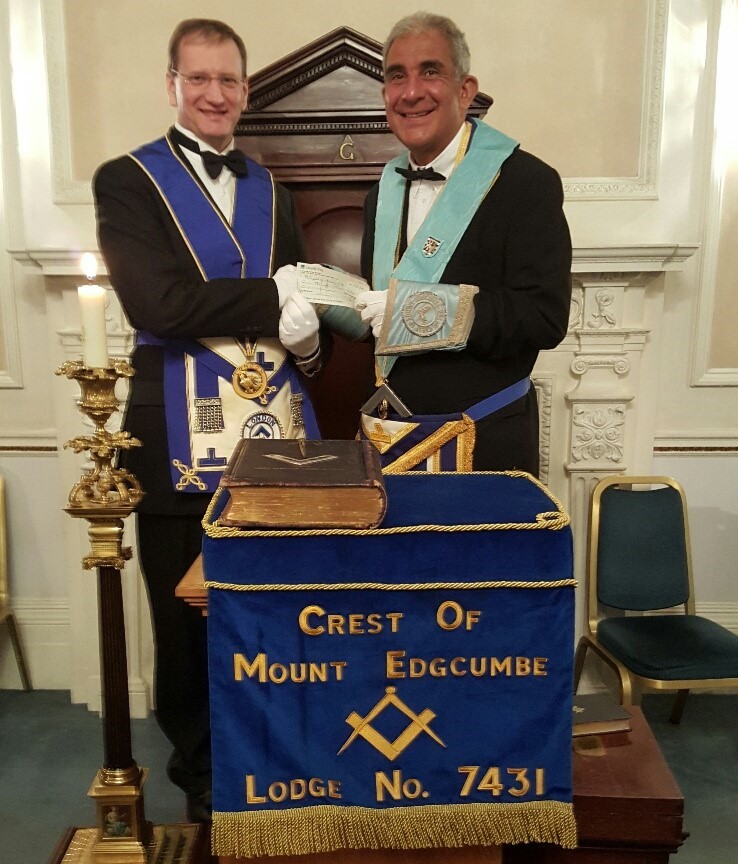 The members of the Crest of Mount Edgcumbe Lodge are proud that the Lodge is:
Grand Patron of:
Royal Masonic Benevolent Institution, The Royal Masonic Trust for Girls and Boys and The  New Masonic Samaritan Fund.
We have the Diamond Award for the Met G.L. RMBI Appeal 2009;
We are Patrons of the – MMC Scanner Appeal and are holders of  The Metropolitan Grand Master's award for 'Outstanding Achievement' and soon to become Foundation Lodge for the Met. Fire Appliance appeal.
Other charitable achievements include:
At the 2018 Ladies weekend, £1,350.00 was raised for charity and has been donated to The British heart Foundation and Dementia UK, both receiving £675 each.
Further pledges in 2018 go to:
Redbridge Respite Care -£350.00
Lifelites – (children's charity) – £100.00
London High Rise Fire Appliances – £1,000.00
There are many other charities that we have recently been proud to support including:
2017 Richard House Children's Hospice £1,000.00
2017 Hemihelp and Cystic Fibrosis Trust £1,500.00
2016 St Francis Hospice Essex & The Alzheimer's Society £1.200.00
2015 Dreams and Wishes & Prince Charles Hospital Special Baby Care Unit £1,500.00
2014 Hemihelp £1,500.00